Shares dived this lunchtime to as little as 12.97p - valuing the company at just £55.8m - after it was reported EY had been selected by Carillion's directors to be on standby for an administration.
Carillion shares plunged on Friday following reports that lenders had rejected a proposed rescue plan for the business.
The company, which is a major supplier to the government, has been holding meetings with lenders.
Carillion said that it was continuing to "engage in constructive discussions with a range of financial and other stakeholders".
Carillion has watched its share price plummet since reporting half-year losses of £1.15 billion, while a meeting on Friday was held to address the company's pensions deficit.
Ministers have held crisis talks over a troubled company that hundreds of schools rely on for vital services, after questions were raised about its future.
"Suggestions that Carillion's business plan has been rejected by stakeholders are incorrect", a spokesperson said.
Carillion is the UK's second-largest construction company, and is a key contractor across the UK.
It also supports schools with health and safety and grounds maintenance.
In addition to its rail operations, Carillion also manages almost 900 schools, provides services to the NHS and works with National Grid.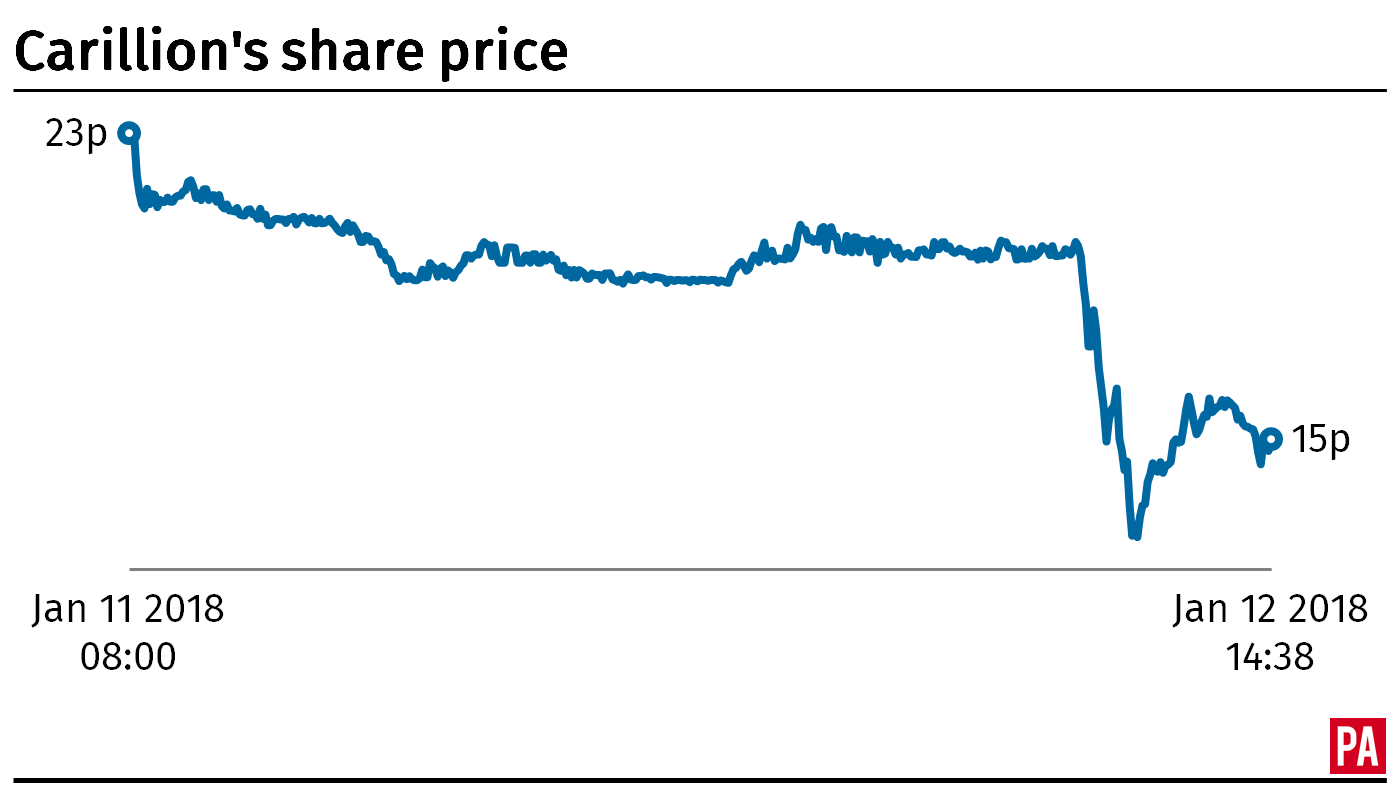 Cabinet Office minister David Lidington hosted the summit of senior figures including Business Secretary Greg Clark and Chief Secretary to the Treasury Liz Truss.
A spokeswoman for the Pension Protection Fund said it was "aware of the discussions between the company, government and banks and, along with the trustees and the Pensions Regulator, will act as it always does to protect the interests of Carillion scheme members and levy payers". "We are committed to maintaining a healthy supplier market and work closely with our key suppliers", she said.
The firm is a major supplier to the government with contracts across education, the NHS and the rail industry, including HS2.
A government spokeswoman said the company was keeping the government informed about its restructuring efforts.
The rescue plan shown to lenders on Wednesday includes handing back some loss-making contracts, revising the terms of others and potentially accepting financial support from the Government if it can not secure it from private sector sources.
Carillion was forced to ask its banks, which include Santander UK, HSBC and Barclays, for support after breaching its loan agreements a year ago when it issued a series of profit warnings.
Carillion is facing a £300m shortfall in funding and met banks on Wednesday to present a business plan, outlining its turnaround pathway.
Many of Britain's service providers have been hit in recent years after they took on work during the financial crisis at low prices for long-running, fixed-price contracts to keep work coming in.
A spokesman for the Scottish government said: "We continue to liaise with United Kingdom government colleagues to monitor and mitigate service risks associated with Carillion's financial situation. It would be inappropriate for us to comment on any individual contractor's internal financial governance".
Padmaavat banned in Gujarat after Rajasthan and Himachal Pradesh
Earlier, on January 8, Rajasthan too banned the Sanjay Leela Bhansali film. We will not tolerate any distortion of historical facts.